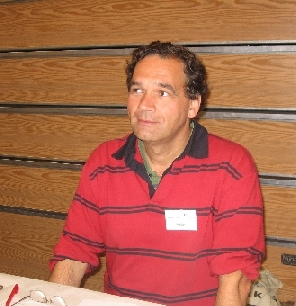 The first thing I taught myself was doing sums; thereafter my father taught me chess when I was 4. Despite the fact that I was best of my primary school and, at the age of 12 champion of the Liemers College in Zevenaar, I can call myself ´late-flowering´ in chess. I entered a chess club only when I was 15, and after my 25th my rating increased from some 2000 to about 2200.
As a 12-year-old I knew I had a lifelong passion for chess. Then (1972) the Match of the Century was played, Fischer-Spassky. Luckily my father let me stay up. Every game was reviewed on television by Euwe and Muhring, who called the moves in English notation. Of course videos did not exist yet. I learned this old notation from the ´Scientific American´. Bobby Fischer then became one of my idols.
Unfortunately, I was never World Champion, not even Grandmaster. The highest achievable for a good willing amateur is Champion of the regional federation and so qualifying for the semifinals of the Dutch Championships. I was regional champion in 1994 and in 2000 and came close in a few other years. In 1994 the semifinals were played in 9 rounds during 3 weekends in Hotel Modern in Enschede; a real happening. In 2000 I already lost the first minimatch, but ah … I had to play IGM Dennis de Vreugt. In the first game I choose the wrong plan and lost. With the white pieces I got a fantastic position in the second game. The good thing was that I could not afford to doubt about a draw, because I had to win to survive. And indeed, I won, but beating an IGM takes away energy and I lost both play-off games without a chance.
I really look forward to the Euwe Stimulus tournament. A pretty formula, special participants and organisers. I have seen playing my fellow-regional-players all summer long in various tournaments, where I was arbiter in Dieren only. Hopefully I´ve got the right form while the others find themselves overplayed …