Elaborations of a young man who loves to play chess and write
Written by Bram van der Velden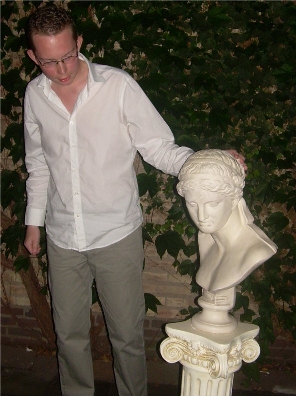 I was asked to describe my chess-playing career in less than a hundred words. Rather a tricky task for someone who writes as long-windedly as I do. Less than 60 words left after this sentence, so here we go:
I've never been a very successful youth player. Contrary to other mothers, mine didn't chase me with the carpet-beater if I hadn't finished my daily tactical exercises. Also it has never occurred that, let's say, my chess performance influenced the amount of Christmas presents I received (can you see it before you? Santa Claus would have liked to give you a train set, if only you hadn't played Rg4 instead of Rf4 in your last game!).
On the one hand the result of this was that you haven't seen me playing in the A-group of the Corus tournament. On the other hand I still truly enjoy our game. Playing chess gives me lots of pleasure – whatever the result.
I look forward to showing what I'm worth in an inspiring environment like the Euwe Stimulus tournament!