Voyage of discovery by a curious chess player
Written by Tom Meurs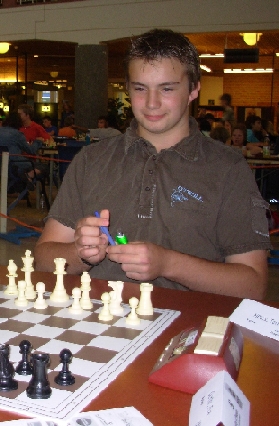 Great idea to add a regional group to the international group! I am glad to be able to be part of it.

I will introduce myself: my name is Tom Meurs, 15 years old and living in Ermelo. I am member of the chess club ´Schaakstad Apeldoorn´, and I really like it there.

My chess history is yet rather short. I started as a substitute in a school team, in group 8 of the primary school. I liked this so much, that I joined chess club VSG in Ermelo, in the summer of 2003. In the season following, after having played a number of regional ´IJsco´ tournaments, I played in the Dutch Open Junior. There I got te know ´De Schaakmaat´; those were my first steps in the direction of Apeldoorn.

Afterwards I moved to ´Schaakstad Apeldoorn´. Besides this I trained in Apeldoorn with SBSA. At present I follow private lessons by Merijn van Delft and central training bij Willy Hendriks. Both are inspiring trainers from whom I learn a lot.

I am not afraid of entering strategic and tactical fights in this strong field. I hope to deliver many nice shows!