First of all I wish to thank the organizers of the Euwe Stimulus tournament in Arnhem for this opportunity to play once again in Holland. The last time I played in Holland was in 1983 - almost a quarter of a century ago - so it was really high time that I was invited again! It is a pleasure and an honour to play in a tournament dedicated to the memory of Dr. Max Euwe, former world champion and FIDE president. It was my good fortune that he continued to be active in the affairs of FIDE after I succeeded him as president. I valued very much to be able to draw on his vast experience and wisdom. He was a warm and forthcoming personality, always ready to lend a hand – whenever a subtle advice was needed. He was truly an outstanding Ambassador for chess.
The organizers have followed the line of Dr. Euwe´s vision – by inviting players of different generations and from all corners of the world. The tournament has therefore an interesting composition of young talented players and more routined campaigners on the 64 squares. It is a pleasure to see among them Nona Gaprindashvili, the former Women´s World champion whom I first met over the board in the International tournament in Reykjavík 1964. It is vivid in my memory how much interest her participation aroused in Icelandic chess circles because it was the first time a woman participated in a such a strong chess tournament there. The Icelandic chess fans were curious to see whether Nona really could play on the same level as men and she left no doubt about it. It was quite a revelation for many at the time - but nowadays quite a normal thing - as has become evident in recent years.
And then there are oldtimers like me and my good colleague of long standing, Oscar Panno from Argentina. His name inevitably brings back memories from our first encounter, in the Junior World Championship in Copenhagen 1953, when we were young and eager to climb the ladder of glory. We both qualified for the final-group of 8 players. The game between us in the first round ended in a victory for Panno after a wild time scramble. Panno tied for first with Klaus Darga of West Germany but was declared the winner on points and thus became the 2nd Junior World champion. I had to be content with third to fourth place. It is worth mentioning that all the finalists in this tournament became well known players; the others were Borislav Ivkov, Yugoslavia, winner of the first Junior World Championship in Birmingham 1951, Bent Larsen, Denmark, Jonathan Penrose, England, James Sherwin USA and Dieter Keller, Switzerland.
These are the names of some of the young chessplayers that were in the process of making names for themselves in the post-war years. Noteworthy however is the total absence of players from the Soviet Union and other East European countries - with the exception of Yugoslavia - on this list. Of course this puzzled our young and sportive minds at the time. What was the cause for this? At a glance one would probably assume that some incident had happened that had aggravated the strained relations between the East and West in the post-war years but it was not the case.
The real reason was an internal problem in the Socialistic Domain. It so happens that at this juncture in history Yugoslavia was refusing to play a secondary role there, subservient to the Soviet Union. An retalitory action had therefore been undertaken to make the Yugoslavian authorities realize the seriousness of their attitude. Apparently all means were used, as in this instance by trying to prevent the participation of Yugoslavia in international sports events. The Soviet Chess Federation had made it plainly understood that if a player from Yugoslavia was allowed to take part in the Junior World Championship in Copenhagen 1953 all participation from the Eastern bloc would be withdrawn. Yugoslavia, FIDE and the organisers refused to bow to these demands. So Borislav Ivkov played and the players from the Eastern bloc withdrew. Actually events had taken a similar course in the Junior World Championship in Birmingham 1951. The Olympiad in Dubrovnik 1950 was also boycotted by the Eastern bloc. It is interesting that such an action was never undertaken with regard to the World Championship cycle for individuals. There it was obviously too problematic and risky.
Those were the politics of Yesterday! Today they center around different things!
Twin combinations
The other day when I was looking through Oscar Panno´s recent games I came across an interesting finale in his game against the chess computer Shredder 7, in Buenos Aires 2003, which looked very familiar to me. Panno had been doing all right in this game all along but in the end he fell victim to a tricky combination. It immediately struck me that this combination was basically identical to a combination in one of my own games, played 25 years earlier – in Las Palmas 1978 against Orestes Rodriguez from Peru. This type of combination is rare and has to my best of knowledge only occurred in these two games so far. Of course I stand corrected if this is not the case.
I think it may be worth while to have a look at these two games. First we will see the position in the game Shredder 7 – Panno after the final move of Black, 42. ...Rd7.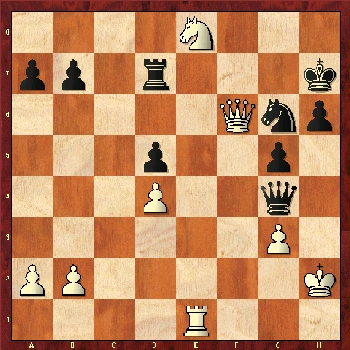 43. Qg7+!.
Then we will see the game Rodriguez – Olafsson and the position after White's last move 26. Rg1.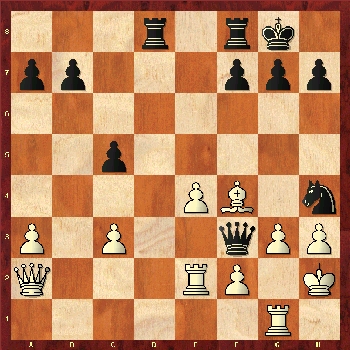 26. Dg2+!. The complete game.