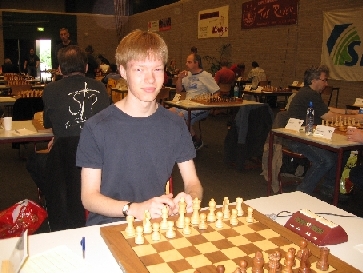 My name is Lars Ootes, I'm 16 years old.
I started to play chess in a chess club in 1998.
I always liked the Regional Junior Championships and the Dutch Junior Championships (with a second place in 1998). Also, I always looked forward to the Open Juniors (last year I was third).
Foreign tournaments in France (Bagneux and Cappelle) brought me nice experiences.
Two years ago I started studying opening theory. This appeared to be successful this year in the Utrecht Open, where I enjoyed my first win to an IM.
When I received the invitation for the Euse Stimulus I was very honoured and I'm really looking forward to play in Arnhem.